Printer-friendly version
Email this CRN article
The problem with the major players in desktop security is that they continue to provide what they say are significant upgrade releases annually -- leaving us to wonder each year whether the technology improvements are significant or whether it's just part of a pricing or licensing strategy.
With Kaspersky Labs' Internet Security 2012, we're happy to see that the application that launched last year does a great job of keeping up with -- and often ahead of -- malicious software providers. With so much discussion about cloud-based security and other trends of the moment, it's great to discover that a security vendor stays true to the basic blocking and tackling. In this case, Kaspersky's Internet Security 2012 blocks malware and tackles security so that work can continue without interruption.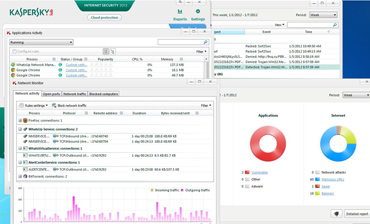 Click image for full-sized view.
In its message to the market, Kaspersky puts a lot of energy into highlighting its cloud-based approach to providing protection against malicious domains, Trojans, botnets and the vast buffet of suspicious and damaging code. At its core, Kaspersky's cloud-based approach means that it continually updates its registry of malicious URLs and signatures, making the constant updates available to the desktop. Kaspersky isn't the only vendor to use a cloud-based approach to security, but we found its approach particularly compelling during our testing.
Once installed on a desktop running Windows 7 Ultimate, we took Kaspersky Internet Security 2012 out for a spin for several days of reckless browsing. That is to say that we repeatedly used web browsers to click into the latest malicious domains provided by Malware Domain List -- an aggregated list of suspicious URLs with Trojans, botnets, rootkits, Blackhole exploits and more. Hitting 50 of these web sites, often minutes after they were posted onto the list, Kaspersky Internet Security 2012 blocked all but one. And in that one case, we updated the software again and then retried the site several minutes later and Kaspersky provided the necessary protection.
The application also includes an anti-spam feature, and we took a look at that as well. For the enterprise, we continue to prefer a network-based approach to filtering out spam and malicious email.
We gave Kaspersky's anti-spam feature a shot. While it's hard to see this as an area where Kaspersky stands out, it does what it needs to do. We were disappointed that, on several occasions, spam that Google's Gmail identifies and blocks from inboxes went unrecognized by Kaspersky; additionally, marking spam objects as spam should be expected to "teach" the application to block similar items in the future. We found two occasions when this didn't work. The anti-spam performance of this suite isn't a deal breaker, but it serves to support our preference for a network- or appliance-based approach to spam.
Kaspersky does provide a few other features that we love in Internet Security 2012, including a straightforward Network Monitor with nifty, real-time graphical information about threats suppressed during a given day or week.
Kaspersky Internet Security 2012 is billed as a "personal security" offering, which is to say it doesn't provide management controls and other enterprise features its higher-end products provide. However, at a list of $79.95 per seat (often reduced in online pricing), makes it a sound option for a small business or workgroup or ad hoc scenarios. Kaspersky provides dedicated channel support and sells through to commercial and enterprise accounts solely through partners.
Printer-friendly version
Email this CRN article