Printer-friendly version
Email this CRN article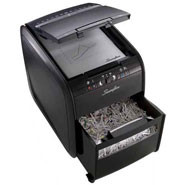 Swingline Stack-and-Shred 80X
People who've waited until today to file their tax returns might also have put off other important decisions, such as purchasing a means to securely destroy unwanted documents. Offering a solution is Kensington sister company Swingline and its Stack-and-Shred 80X, a compact, quiet and versatile paper automated cross-cut shredder that's as easy to use as it is to afford.
For starters, the $399 (list) Stack-and-Shred 80X eliminates the need to stand there while you watch (and listen to) it work. Instead, simply lift the cover and lay a stack of up to 80 sheets of letter-sized paper, close the cover and walk away. A heavy-duty sheet feeder automatically feeds the paper to the blades at a consumable rate. If jamming occurs, the unit automatically alternates paper direction in an attempt to clear it. Paper that's larger than letter size can be folded, and a boost switch can help with some jams.
Though not recommended, the 80X won't choke on stapled bundles of up to 25 sheets or the occasional standard-sized paper clip. But the company recommends removal for extended product life. Most types of report clips and binders are off limits, as are card stock, adhesives, edge-bound periodicals and plastic sheets, but credit cards are OK.
[Related: Swingline Paper Shredder: Old Idea, New Convenience]
Last year about this time, the CRN Test Center covered Swingline's model EX-100-07, which we called a great shredder for resellers scrapping to boost their bottom line. This year's model -- the 80X -- along with a sexier name, occupies a slightly lower and slimmer profile for under-desk use, and it offers several important convenience features over last year's model.
For starters, the top slot feeds directly into the shredder rather than taking a slightly more circuitous route through the rollers. And while the EX-100 didn't jam, we prefer the most direct route for anything that involves the potential to be converted into an accordion. With the exception of a 12-page pamphlet, all of our tests involving the top (manual) feeder slot worked flawlessly. To be fair, the pamphlet contained twice the shredder's stated maximum for manual feeding, which is six sheets, and did go through eventually; it just took some maneuvering of the forward and reverse controls (both automatic and manual).
At around $199 street, the Stack-and-Shred 80X is one of five shredder models offered by Swingline for various duty cycles. The unit includes a one-year warranty on all parts, including the cutter, and is a recommended product by the CRN Test Center, particularly for destroying all those sensitive tax documents that might be laying around.
Printer-friendly version
Email this CRN article