Printer-friendly version
Email this CRN article
As far as PowerFile is concerned, tape just doesn't cut it for archiving files.
The Santa Clara, Calif., vendor's Active Archive Appliance (A3) instead uses DVDs for data storage, providing a long-term, more readily accessible file archive, the CRN Test Center finds.
Archiving data requires a balancing act: Keeping key files easily accessible and then, when they're not needed very often, moving them to other media that still allows users to access them. Tape libraries often are used for archiving files. But data on tape typically takes a long time to access, and the media can be expensive.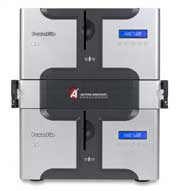 By using DVD discs, PowerFile's A3 employs an inexpensive storage medium that offers faster access plus a long shelf life. Regulations such as Sarbanes-Oxley and HIPAA require that organizations retain copies of various files. If WORM media is used, the data is safe for more than 50 years. The appliance is ideal for archiving files such as CAD drawings, images and medical documents, among other content.
The plug-and-play A3 appliance combines a disk-based cache server, file management software and DVD-based libraries. Sold as a 12U appliance, the device consists of a 2U archive engine sandwiched between two 5U DVD libraries.
The archive engine is built around a dual-Xeon-capable motherboard with a single 2.8GHz Intel Xeon processor and 1 Gbyte of memory installed. Two Gigabit Ethernet ports provide network connectivity. The archive engine also houses a 1-Tbyte disk array consisting of four 250-Gbyte, hot-swappable Serial-ATA hard drives. The array is used as a large cache for storing files that must be instantly accessible. If a larger cache is required, the archive engine can accommodate 500- or 750-Gbyte hard drives in place of the 250-Gbyte units. The engine also features redundant power supplies and fans.
The 5U DVD libraries each house two double-layer DVD recorders and 200 blank DVD discs for archiving. If double-sided discs are used, the 200 DVDs combine for a capacity of 1.7 Tbytes per library, or 3.4 Tbytes per appliance.
The archive engine's 1-Tbyte disk cache can easily support the appliance's 3.4-Tbyte capacity. Ideally, the disk cache should be at least 10 percent of the library capacity. The 1-Tbyte disk cache, therefore, can support two or three more libraries, though more than that would require the engine to have larger hard drives.
Up to 18 libraries can be combined in a single system that scales to more than 30 Tbytes and fills a little more than two racks. The 3.4-Tbyte starter appliance costs $15,900, and additional 1.7-Tbyte DVD libraries cost $5,900 each.
With its capacity and pricing, the A3 is geared toward small and midsize enterprises. But the appliance will be available with double-layer Blu-ray disc recorders around the end of May. The double-layer Blu-ray discs can store 50 Gbytes each, which will allow for a capacity of 10 Tbytes per library or 70 Tbytes per rack. That will make the archive appliance ideal for use in larger enterprises as well.
Need determines how the A3 appliance is used. The libraries are typically filled with blank discs on installation, and then in most cases solution providers will simply add another 1.7-Tbyte DVD library once all the discs in the current libraries are full. That way, files that are needed often remain on the quickly accessible hard drives, and files that are seldom needed are stored on DVDs, where they can still be accessed over the network.
In organizations where stored files have a shelf life, solution providers will take the appliance offline after, say, a year, remove the old discs for safekeeping, load up new ones and put the appliance back online.
The A3 sets up as a highly scalable network-attached storage system that mounts as a network drive supporting both NFS and CIFS protocols. It's compatible with most third-party data management tools. Software comes preloaded, allowing the appliance to be set up in less than 30 minutes.
On the channel side, PowerFile's partner program is targeted at top data storage VARs, with annual revenue of at least $25 million, that serve multiple vertical markets. Profit margins for partners average between 10 percent and 15 percent.
PowerFile offers extended quarterly training, both classroom-based and on-site, for all partners. No fees are involved, and partners can sell extended-service subscriptions. PowerFile offers beta-testing programs with purchase incentives for new products, as well as free try-and-buy programs. PowerFile also provides spiff programs based on the size of a deal or the quantities purchased, with spiffs ranging from $100 to $2,000.
Printer-friendly version
Email this CRN article