Printer-friendly version
Email this CRN article
Remember the days when the primary data you would store on your desktop were a few PowerPoint presentations, a bunch of photos and a few other multimedia files?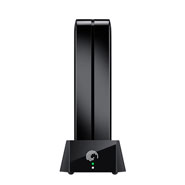 Seagate GoFlex
Remember when 10 GB of desktop storage was enough? How about when 100 GB of storage was considered "more than you'll ever need?" Remember flying past the 1 TB mark and fretting that you'd start running out of room fast?
Seagate is hoping you can put those memories to bed, at least for now, with the 3 TB of capacity it is providing in its Free Agent GoFlex Desk, a USB-connected desktop storage device that's designed for significant data storage and PC backup. And while nobody will now say that even 3 TB is more than you'll ever need, this is a product that is designed to replace storage anxiety with big capacity.
The CRN Test Center evaluated the Seagate GoFlex Desk, 3 TB storage device. Since it contains pre-loaded software, the device actually has 2.72 GB of unused storage. It requires AC power, so it must be plugged in. A second cable, a USB 2.0 cable, connects the drive to the desktop or notebook.
Immediately in Windows 7, the drive is recognized; it's then possible to either start storing data files or launch the pre-loaded software that is included.
Speaking of the software, Seagate has delivered the GoFlex Desk as more than an extra storage drive, but as a solution. The storage unit is pre-loaded with Seagate Dashboard and Memeo Instant Backup software. Memeo, based in Santa Clara, Calif., makes a series of data backup, sharing and synchronization applications; Instant Backup is a straightforward, yet effective, tool for preserving files and backing up files while it runs in the desktop's background.
Memeo does one, thorough system backup once launched, and then continually backs up new or changed files in real time. (Like with other similar applications, the initial desktop backup could take some time.) Memeo also provides the option to encrypt all data while it's backing up.
The "restore" function is as simple as pressing a button to restore either all files, or individually selected files.
A nice touch: The external drive itself is built with an "on" light and capacity lights – which let you know when the drive is 25 percent, 50 percent, 75 percent and 100 percent full without even having to locate the drive's data on the PC itself. GoFlex Desk also supports USB 3.0, which means that if the desktop upgrades from USB 2.0 to USB 3.0 during the lifetime of the drive, it will support that standard.
We've reviewed a number of desktop backup and external storage products over the years, and Seagate has built out a strong lineup in this area. At this point, 3 TB is a good capacity for desktop storage – particularly for creativity solutions – and Seagate's ISV partner Memeo provides nice, baseline-level backup and restore.
Seagate's list price for the Free Agent GoFlex Desk 3 TB drive is $229 which, when considering the software, the ease of use, the capacity and power of Memeo's backup and restore technology, makes it a valuable product. The CRN Test Center can recommend it strongly for desktop external storage and desktop backup.
Printer-friendly version
Email this CRN article