Printer-friendly version
Email this CRN article
Samsung has been manufacturing memory and SSD-drive storage controllers for years. In recent months the South Korean electronics giant quietly began shipping a branded line of SSD drives for consumer and retail markets that should make resellers sit up and take notice.
Dubbed the 470 Series, Samsung's new 2.5-inch SATA II SSD drives are available in 64-GB, 128-GB and 256-GB models and respectively list for $129, $259, and $519 respectively. Not bad considering that 256-GB drives with similar specs from Corsair and Kingston are selling on the street for at least 30 percent more.
As for specs, the 470 Series is no slouch. All drive models feature Samsung's latest 30-nm multi-level cell (MLC) storage architecture and are rated for read operations to perform at 250 MBps. For write operations, the higher-capacity drives are rated at 220 MBps, and the 64-GB drive is supposed to deliver 170GBps. Your results will vary of course, and in tests performed here at the CRN Test Center, the 256-GB review sample managed a maximum throughput of 83.5 MBps and 21,382 input/output transactions per second (IOPS).
To test the new Samsung drive, we fired up our six-core AMD Phenom-based test fixture, which consists of an AsusTek Crosshair IV Formula motherboard with 4-GB 1333-MHz DDR3 memory in a two-channel configuration running 64-bit Windows 7 Ultimate N. IOMeter was used to measure transaction processing and data throughput performance using our standard optimization methodology, which gradually increases the number of pending IOs per target until performance falls off. The best performance was seen at the default setting of one IO per target, with sequential reads of 4K chunks of data. As expected, performance fell off as randomness was increased.
Next: Cost Breakdown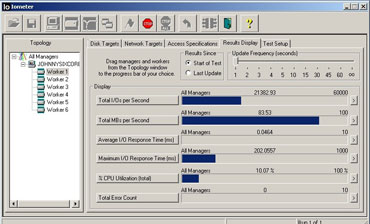 Click image for full-sized view.
Still, the Samsung 256-GB SSD drive is priced to move. Based on prices of SATA II SSD drives at NewEgg.com as of May 18, the $499 Samsung 256 GB is selling for $1.49/GB; the Kingston SSDNow V+100E ($569) costs $2.22/GB; and Corsair's P256 ($699) costs $2.73/GB. By the way, the Corsair drive incorporates a Samsung storage controller.
Samsung's drives also are economical in terms of power consumption when compared with the competition. When active, the Kingston drive consumes between 2.8 and 3.3 watts, and the Corsair uses 1.5 watts. Samsung's drive reportedly uses just 0.24 watts, according to materials provided by the company for this review. And when idle, the unit sips just 0.14 watts, roughly on par with Corsair's rated consumption of 0.14. Remarkably, Kingston's drive uses just 0.052 watts when idle. The Corsair, Kingston and Samsung models all use MLC NAND flash memory, offer a rated MTBF of 1,000,000 hours, are rated to withstand a shock of 1500G, and include a three-year warranty on parts and labor.
Add one to the list of things Samsung does well; its monitors, laptops and mobile devices all have found favor in the CRN Test Center. Its SSD drives are economical and perform well, and Samsung's partner program forms a product trifecta for the reseller. When rugged, low-cost, high performance solid state storage is required, the CRN Test Center recommends the 470 Series from Samsung.
Printer-friendly version
Email this CRN article