Printer-friendly version
Email this CRN article
Having tested some of the fastest computer systems available today, it takes a lot to impress us here in the CRN Test Center. But the out-of-the-box performance of Intel's Solid-State Drive 520 Series, the company's latest line of SATA III SSDs for consumers and the enterprise, was nothing short of amazing.
The specifications read well enough. Intel rates the drive's throughput at 550 MBps for sequential reads and 520 MBps for writes, and a transaction processing rate of up to 80,000 IOps. But we've seen published rates like that before, but in testing none came close. Until now.
We connected the drive to one of the SATA III ports of our six-core Intel Core i7-based test fixture, which consists of an Intel DX58SO Extreme motherboard with Core i7 980X Extreme processor, 4-GB 1333-MHz DDR3 memory running 64-bit Windows 7 Ultimate N.
As does Intel itself, the CRN Test Center uses IOMeter to measure transaction processing and data throughput performance. We developed our own optimization methodology that gradually increases the number of pending IOs per target until performance of the unit under test no longer increases. Separately, Intel suggested a queue depth of 32, which we also found to be optimal.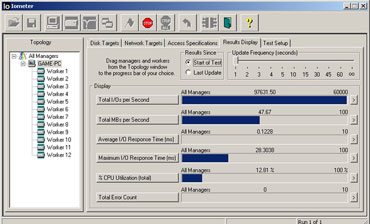 Click image for full-sized view.
Out of the box, the 240-GB review unit delivered a sustained transfer rate for 32K-byte sequential read operations of 512 MBps, close to its theoretical maximum rate of 550 MBps. For sequential writes of the same size blocks, the drives delivered a sustained rate of 289 MBps.
The drive also impressed in terms of transactional performance. With 512-byte blocks, the 520 Series delivered a sustained read rate of 97.5K IOps, and a sustained write rate of 85K. In our tests, the drive fell short of its rated transaction rate for 4KB random reads of 50K.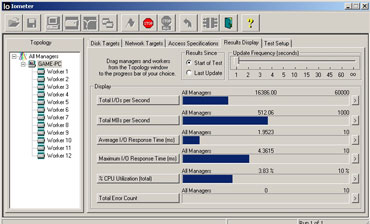 Click image for full-sized view.
The 520 Series of 2.5-inch SSDs includes 60-GB ($140 list), 120-GB ($229), 180-GB ($369), 240-GB (tested, $509) and 480-GB ($999) models, each with a five-year warranty. They're made using Intel's multi-level cell 25-nm NAND flash memory, data compression, AES 256-bit encryption and end-to-end data protection with CRC, parity and ECC checks from the host interface to the NAND and back.
Intel claims that as a result of internal benchmark testing, it has determined that systems equipped with an Intel Solid-State Drive Series 520 drive can improve business user productivity through an increase in system responsiveness by as much as 78 percent, or as much as 88 percent for gamers. While the CRN Test Center did not seek to verify these claims, we did find the Intel's drive to be the fastest we've ever tested, and we recommend it with confidence.
Printer-friendly version
Email this CRN article