Printer-friendly version
Email this CRN article
Samsung has done it again, doubling the throughput performance of its solid-state drives while keeping prices steady. The company today unveiled the 840 Series, a new line of SSDs for professionals and consumers starting at $99 that offer rated transfer speeds in excess of 500 MB/s.
Last November we reviewed the Samsung SSD 830, which at the time doubled the performance of predecessor drives from the 470 series, which we tested the prior May.
For testing, Samsung sent the CRN Test Center a 512-GB 840 Pro, the largest-capacity drive of its higher-performance line. We connected the drive to a SATA 3 port on our six-core Intel Core i7-based test fixture, the same platform used to test the 830 Series drive. This consists of an Intel DX58SO Extreme motherboard with Core i7 980X Extreme processor, 4-GB 1,333MHz DDR3 memory and 64-bit Windows 7 Ultimate N. The SATA 3 spec has a theoretical maximum transfer rate of 6 Gb/s. IOmeter was used to measure transaction rate and throughput using the Test Center's standard testing methodology for maximizing performance by adjusting the pending IOs per target.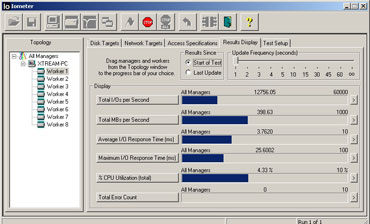 Click image for full-sized view.
With a setting of 48 pending IOs and a test-data block size of 32 KB, testers were able to achieve a sustained transfer rate of 398 MB/s (shown), more than double the sustained throughput of the 830 Series drive, a 128-GB unit that delivered 170 MB/s. Switching our efforts to maximizing transaction processing, we changed the block size to 512 bytes and cranked the pending IOs to 96, where we found a sustained transaction rate of more than 95,000 IOs per second (IOps) compared with around 45K IOps for the 830 series. All maximum performance figures were achieved while performing sequential read operations; rates with random operations were slower.
NEXT: Specs, Pricing and AvailabilityOf course, test results might not be typical of the real world. And, actual drive performance in our test labs varied significantly from the ratings specified by Samsung for its 830-Series and 840 Pro drives. Though transfer rates doubled from one generation to the next, the 830's rated throughput for sequential reads is 520 MB/s, and the 840 Pro's is 540 MB/s. A wider gap exists for sequential writes, with the 830 rated at 400 MB/s compared with the 450 MB/s of the 840 Pro. For random writes, the 840 Pro is rated at 78K IOps, while the 830 is designed to deliver 36K.
The staunchest difference between the 830 and 840 Pro drives comes in terms of power consumption. While the 830 was rated at a relatively low 0.24 watts during active use, the 840 Pro consumes an amazing 0.068 watts. And when idle, it sips just 0.042 watts, compared with the 0.14-watts idle power consumption of its predecessor. Power specs will become particularly important when deploying large numbers of SSDs in servers and storage arrays, and when installing just one in a laptop.
Samsung's 840 Series (non-Pro) consumer focused SSDs drives will be priced at $109 for 120GB, $199 for 250GB and $449 for 500GB. Add $20 for a migration kit, which includes a USB-to-SATA adapter cable, brackets and all-new migration software. Non-pro drives are built with TLC NAND flash and include a three year warranty. And like the 830 Series, 840 Series will be overprovisioned, which sets aside a percentage of the available storage space to prevent excessive wear as
the drive reaches its maximum capacity.
In its migration kit, Samsung will no longer bundle Symantec Ghost, but instead has developed Samsung Data Migration and SSD Magician, a pair of included tools that permit further adjustments to overprovisioning settings and automate and greatly simplify migration from one drive to another. One particularly clever function identifies large files such as videos and ISOs and presents an option to delete or migrate them to separate storage media.
Designed for daily use, Samsung's 840 Pro drives are made with the more durable MLC NAND flash. However, included firmware allows overprovisioning to be enabled (it's disabled by default) to further increase longevity. The 840 Pro drives will be available in 64GB (for $99 list), 128GB ($149), 256GB ($269) and 512GB ($599). All 840 Series drives are built with all-Samsung components, including its three-core MDX eight-channel controller, which now incorporates ARM Cortex R4 cores. Claims a competitive performance advantage, Samsung says that having three cores enables its drives to, for example, read with one processor, write with another and perform garbage collection with the third. Drives also include hardware encryption and a five year warranty. The 840 Series is set to begin shipping on Oct. 15, and are recommended by the CRN Test Center.
PUBLISHED SEPT. 24, 2012
Printer-friendly version
Email this CRN article