Email this CRN article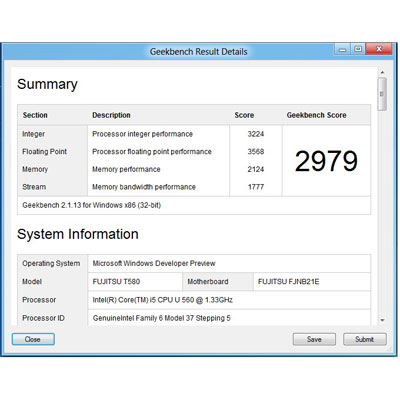 Performance Flat-Line
Finally, I present another point-of-view issue. This one serves to debunk some of the other negative coverage that's been circulating about how Windows 8 requires new hardware. In my opinion, that's simply not true. Windows 8 will not require new hardware, and here's the proof:
We wiped and installed Windows 8 (build 8102) onto a Fujitsu LifeBook T580 Tablet PC, a well-equipped three pounder built around an Intel Core i5 (model U560) 1.33 GHz processor. Prior to wiping it, it was running Windows 7 Professional 32-bit on 2GB of memory with its display set at 1366 x 768 pixels, and delivered a high Geekbench score of 3017. With Windows 8 installed, the same unit delivered a high score of 2992 (the screen shot shows a slightly lower score, also delivered by the T580). Not bad for pre-beta code that's not optimized for performance.
I expect a bigger IT issue to be Microsoft's admission that ARM-based devices won't run Windows 7 x86 apps.
Email this CRN article