Email this CRN article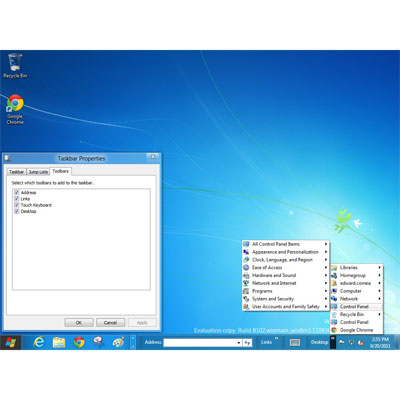 Behind (Tool)bars?
Whether you like or hate this feature depends on your point of view. The Taskbar Toolbars feature (found in Taskbar properties) was present in Windows 7 but was often overlooked perhaps because some of its functionality was linked with IE and/or duplicated elsewhere. The Toolbars are still linked to IE by default, but some of the other functions are not as easily accessible in Windows 8 as they were in Windows 7.
For example, accessing desktop apps and the Control Panel (shown) is simplified when doing so right from this menu. It's like an end-around the missing Start menu. IT departments will either like this (when the user has it enabled) or hate it when it's obscured by all the running apps clogging up the Taskbar. I'd rather just have the Start menu back, thank you.
Email this CRN article