Email this CRN article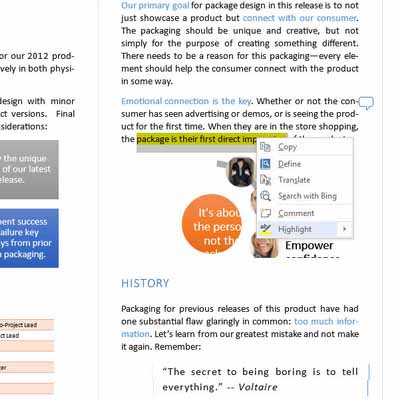 Review: Word 2013
Though not written in "Metro style," Word, Excel, PowerPoint and Outlook appear and behave like Metro-style apps. They fill the screen, have a flatter look and feel that forgoes scroll and title bars, and when in "touch mode," bring up finger-friendly navigation icons.
Shown here is Word 2013's new "read mode," designed to simplify text consumption with automatic column and text flow adjustments. Similar to an e-book, the mode offers bookmark and tap-to-zoom features and the ability to define, translate or look up words (with an Internet connection). And, if you're reading a document saved on SkyDrive (the new default), bookmarks lets you pick up where you left off even when switching devices.
Word 2013 also can be used as an online presentation tool, sharing any document to Chrome, Firefox, IE or Safari browsers. Word can now open and edit PDF documents and use objects from within to create new presentations, and images can be placed directly from Facebook, Flickr and the likes without downloading and saving locally first.
Email this CRN article