Email this CRN article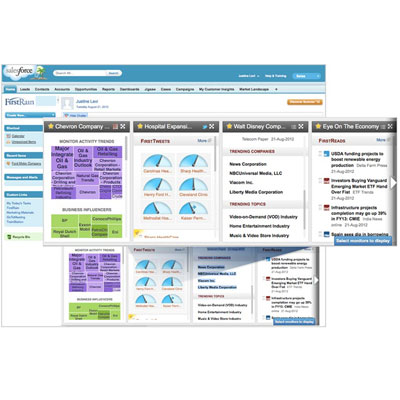 FirstRain Organizes Sales Information
Business analytics software maker FirstRain released FirstRain Performinator, which organizes information on a company's top customers, the business' information and the markets to which they sell.
FirstRain Performinator is comprised of three modules. The Personal Intelligence Carousel is located on the home page of Salesforce.com, SharePoint or other social enterprise platforms, and it lets sales or marketing workers select, view and share the intelligence on their top customers and markets. The Account Snapshot offers a dynamically generated brief of the companies in the CRM system the customer is using. The Market Landscape module gives a view of companies, markets and competitors related to a client business.
FirstRain's analytics technology integrates with CRM and social enterprise platforms, including Salesforce.com, Chatter, Cisco WebEx Social and Microsoft SharePoint, as well as with Dynamics, Jive and Yammer.

Email this CRN article