Email this CRN article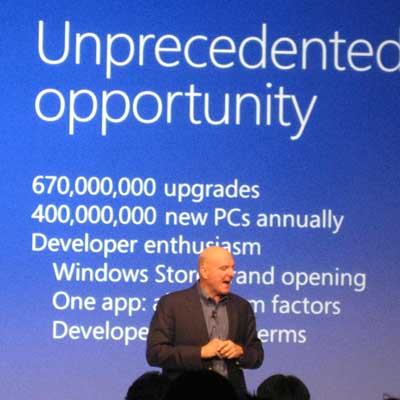 Partner Opportunities
Ballmer said the launch of Windows 8 and Windows RT would provide a boost for Microsoft and its channel partners -- as well as for the PC industry overall. The CEO cited analyst forecasts that 400 million new PCs will be sold in 2013 -- most with Windows 8.
Microsoft is making a major push to convince the millions of users of the decade-old Windows XP to upgrade. And, some 670,000 PCs are running early releases of the desktop OS and are ripe for upgrading to the commercial release.
Ballmer also touted the new opportunities for ISVs that can develop applications for Windows 8 and Windows RT and sell them through the new Windows Store that went live Oct. 26.

Email this CRN article