Email this CRN article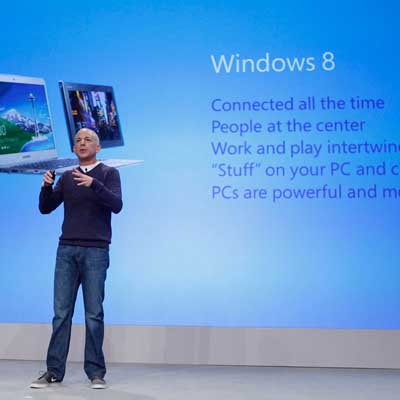 Two Billion Windows Users?
"In creating Windows 8, we shunned the incremental," said Steven Sinofsky, president of Microsoft's Windows and Windows Live Division, in a speech preceding Ballmer. Sinofsky, who had ultimate responsibility for the Windows 8 development, described the new software as a quantum leap in personal computing.
Earlier editions of Windows are installed on more than 1 billion PCs worldwide, and Sinofsky said that with Windows 8, Microsoft is "looking forward to the next billion."
The executive said Windows 8 and Windows RT have undergone 1.24 billion hours of pre-release testing, and he emphasized the software's compatibility with Windows 7 hardware and software. He bragged about the new software's smaller memory footprint, faster boot time and improved battery management capabilities. More than 1,000 hardware devices are certified to run Windows 8, some priced less than $300, he said.

Email this CRN article