Email this CRN article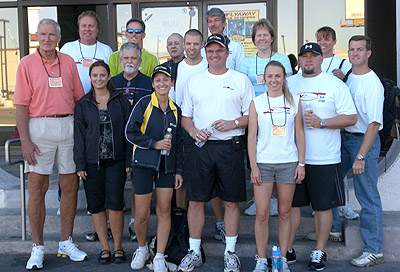 In an effort to drum up new customers for solutions based on Hewlett-Packard products, distributor Arrow ECS held an Amazing Race competition this year for its HP reseller customers. VARs competed in five categories, and the winners, those with the most individual sales to new customers between May 1 and July 31, got to send teams to participate in a whirlwind competition of mental and physical challenges that took them from the heights of Las Vegas' Stratosphere Casino to Hollywood Boulevard, to the shores of Catalina Island to the Golden Gate Bridge.
The teams are ready! Solution providers sent two contestants for each team who were paired with an Arrow teammate. First stop, Las Vegas where team members had two hours to see who could gamble their way into the most cash using $250 and before being sent to do a timed flight in a wind tunnel.
Email this CRN article