Email this CRN article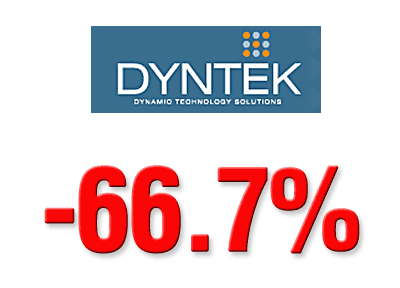 NAME: Dyntek
LOCATION: Irvine, Calif.
2007 VARBusiness 500 RANK: 261
CEO: Casper Zublin Jr.
TICKER SYMBOL: DYNK.OB
STOCK PRICE, JAN. 3, 2007: $0.15
STOCK PRICE, DEC. 14, 2007: $0.05
PCT. CHANGE: -66.7%
SPECIALTY: IT security, unified communication, virtualization, Microsoft Information Worker, and application infrastructure and delivery solutions.
FINANCIALS:Announced plans to file a Form 15 on Dec. 18, 2007 to deregister its common stock and suspend its reporting obligations to the SEC.
"In the board's estimation, the costs and administrative burdens associated with being a public company have simply become too massive for a company of our size and stage of growth," said the company in a filing. Lost $3.2 million in the first fiscal quarter ended Sept. 30 on $30.1 million in sales.
Email this CRN article