Email this CRN article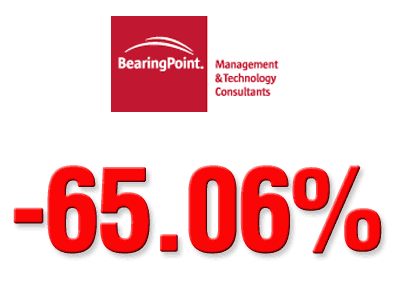 NAME: BearingPoint
LOCATION: McLean, Va.
2007 VARBusiness 500 RANK: 28
CEO: Ed Harbach
TICKER SYMBOL: BE
STOCK PRICE, JAN. 3, 2007: $7.87
STOCK PRICE, DEC. 14, 2007: $2.25
PCT. CHANGE:-65.06%
SPECIALTY: Provides management and technology consulting services to Global 2000 companies and government organizations in 60 countries.
FINANCIALS: Its stock tumbled in early December after reporting a third-quarter loss that more than doubled as higher costs outpaced a sales increase. In the quarter, the company posted a $68 million loss, or 32 cents per share, compared with $29.6 millio loss, or 14 cents per share, during the same period a year earlier. Analysts had been expecting a loss of 11 cents per share, on average, according to Thomson Financial. The same day, Harbach replaced Harry You as CEO.
Email this CRN article