Email this CRN article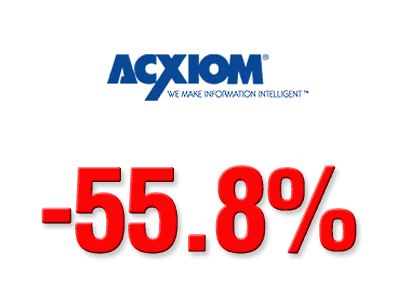 NAME: Axciom
LOCATION: Little Rock, Ark.
2007 VARBusiness 500 RANK: 50
CEO: Charles Morgan (ret.)
TICKER SYMBOL: ACXM
STOCK PRICE, JAN. 3, 2007: $25.40
STOCK PRICE, DEC. 14, 2007: $11.23
PCT. CHANGE: -55.8%
SPECIALTY: Database marketing services and data management software.
FINANCIALS: Revenue for the second quarter of Axicom's fiscal 2008 was $351.0 million, an increase of 0.8 percent compared with $348.3 million for the comparable prior-year period. Income from operations for the three-month period equaled $20.4 million compared to $41.9 million for the quarter ended Sept. 30, 2006. The stock was pushed down also in October, after a proposed buyout deal fell apart. As a result, CEO Morgan retired, but is acting in the capacity until a replacement is named.
Email this CRN article