Email this CRN article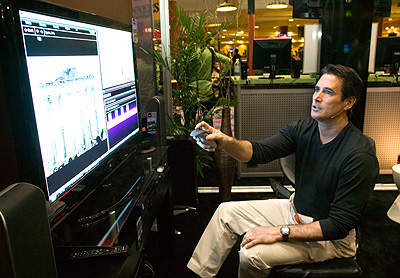 AMD's SmartHouse 'dad' Brian Taylor demonstrates the features of the new AMD LIVE!-powered home entertainment system unveiled at CES on Monday. Powered by AMD's quad-core Phenom desktop processors and forthcoming multi-core Turion notebook chips, the system is built around a newly branded PC called AMD LIVE! Ultra.
The desktop version takes AMD's Spider CPU-GPU-chipset platform and tweaks it for home entertainment with the new AMD LIVE! Explorer application for dynamic, split-screen multimedia tasks. Discrete graphics from the chipmaker's ATI division pack the system with extra visual punch. AMD says OEMs and system builders should be rolling out AMD LIVE! Ultra desktops during the first half of the year, while the Turion-based laptop version is expected to start shipping in the second half.
Email this CRN article