Email this CRN article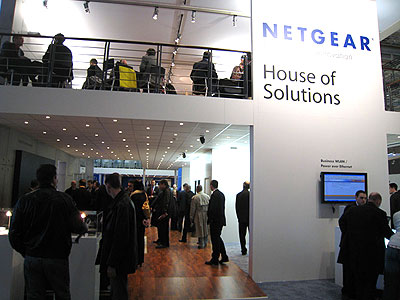 IBM. Microsoft. Cisco. For many in the IT industry, just mentioning these familiar names inspires a warm, cozy feeling, like curling up with a mug of hot cocoa on a frigid afternoon and watching the snow fall. Several of the industry's biggest guns were at CeBIT 2008 to plant a stake in the ground and let everyone know it is they who lead the way. Everything Channel strolled around more than 20 exhibit halls, searching for familiar names and discovering what messages they brought to this year's event. Here's what we found.
Santa Clara, Calif.-based Netgear had a huge presence at CeBIT on the strength of its House Of Solutions, where attendees could get a glimpse at the vendor's new families of next-generation Wireless-N networking solutions, ReadyNAS advanced network-attached storage solutions, built-for-business ProSafe switches, security and wireless solutions, wired and wireless network bridges and extenders, and carrier-grade broadband gateways.
Email this CRN article