Email this CRN article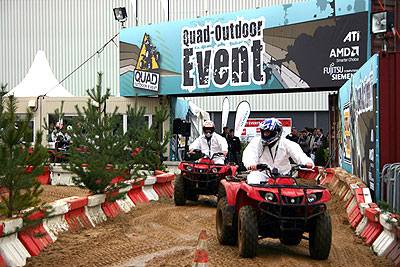 The CeBIT trade show in Hanover, Germany is a vast expanse of conference halls, booths, meeting rooms, and chattering throngs of IT aficionados. Within all that, there are scenes so strange that one often finds oneself doing a double-take. Everything Channel wandered the CeBIT fairgrounds with the goal of capturing as many of these sights as possible, so that future generations may benefit from the edification they provide. And also because many of them are just so gosh- darned funny.
AMD has had a rough ride of late, what with all the fuss around its delayed Barcelona and its lackluster financial performance. But at CeBIT, AMD experienced a different type of rough ride, joining up with Fujitsu and Siemens to sponsor a noisy, perplexing contest/promotion featuring 4-wheel all terrain vehicles, an event that grabbed the attention of many conference attendees as they passed from hall to hall. Many of whom wondered how the heck the event fit into the Green IT theme of this year's CeBIT conference.
Email this CRN article