Email this CRN article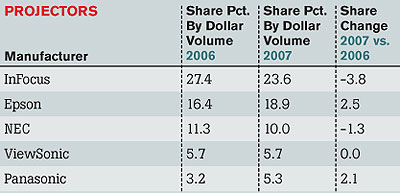 PROJECTORS
InFocus grabbed the most market share, but its share

dropped in the first half of 2007 over the year-ago period,while

in the No. 2 slot, Epson saw an increase.
But certainly don't count InFocus out. In September 2007,

Bob O'Malley of Tech Data left the distributor to take

the helm of InFocus. "As we look to the opportunity for 2008,

we are seeing the beginning of a growth period for projection,

driven by changing display requirements," O'Malley said.
Gus Chiarello, PSG manager at Brooklyn, N.Y.-based Atlantic

Business Products, has been working with InFocus for six years.

"They've been a staple in the projector business,whether it's residential

or commercial," Chiarello said.
Meanwhile, NEC Display Solutions of America banks on its

strong education focus -- 40 percent of all sales in the projector

market are in the K-12 segment, said Pierre Richer, who

Email this CRN article