Email this CRN article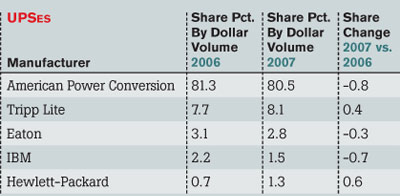 UPSes
The UPS industry has seen a lot of consolidation, but it's had

little impact on the vendors' sales through distribution.

APC, which last year was acquired by Schneider Electric,

which also owns MGE, is by far the most commonly found UPS

vendor in distribution. Its share of sales through distributors

in 2007 is only slightly less than its share in 2006.Tripp Lite

and Eaton, follow. Eaton also grew by acquisition last year

when it acquired the low-end business of MGE from Schneider

when the latter acquired APC.
About 95 percent of APC's sales are through indirect channels,

and MGE is also now turning its sights on the channel

after being a direct player so long, said Rob McKernan, vice

president of Americas channels and alliances at APC.
Jan Baker, office manager at Systems Design, Sparks,

Nev., said her company uses only APC UPSs. "We get a lot

of support," Baker said. "Any time we have any issue, say a

problem with a weird noise, they walk us through.They refer

customers to us. And they never try to steal a customer."
[READ MORE]
Email this CRN article