Email this CRN article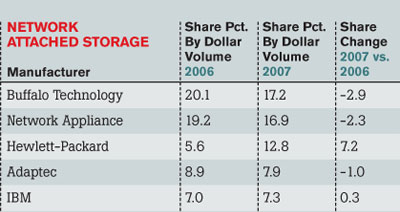 NETWORK-ATTACHED STORAGE
High sales volume has yet again put Buffalo Technology at

the top of the NAS category,while higher sales prices kept Network

Appliance and Hewlett-Packard in the top three.
Buffalo's share stems from its focus on home users and small

businesses of up to about 250 users, said Erny Mezas, director

of sales. NetApp and HP, on the other hand, focus on smallbusiness

to enterprise customers.Their products have an average

selling price of three times to six times that of Buffalo, Mezas

said. "There's no question we're the volume leader," he said.

"So we don't see them as direct competitors to us."
For NetApp, about half of U.S. sales go through channels,

but a significant part is done directly with a handful of solution

providers that do not buy through distribution, said Sajai

Krishnan, general manager of the small and midsize business

unit. Even so, Krishnan said, "We need to broaden our partner

reach. Our growth has to be through partners."
HP's strength depends on NAS appliances built on its Pro-

Liant server and All-in-One lines, said Harry Baeverstad, director

of entry NAS. About 50 percent of HP's overall U.S. NAS

sales go through the channel, but HP is focusing on increasing

that with several growth-oriented channel campaigns, he said.
[READ MORE]
Email this CRN article