Email this CRN article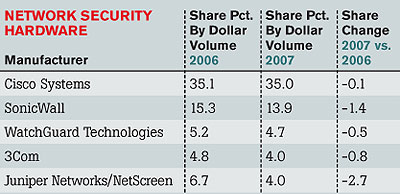 NETWORK SECURITY HARDWARE
The story in channel-based network security hardware sales can

be summed up in one word: flat. Cisco Systems held on to

its roughly 35 percent share of the distribution market for the

second half of 2007. But the best that can be said is that it lost

slightly less share than its competitors, including SonicWall.

With Cisco, WatchGuard Technologies and 3Com.

dropping less than 1 percent in share, it's tempting to say the

numbers are statistically insignificant. But add up distribution

share losses by the top five vendors, and you wind up with about

a 4.7 percent chunk of channel market ceded to smaller rivals.

That's not a huge number, but it's significant. And solution

providers like Matt Briese think they know why it's happening.
"The big boys are falling down on the job," said Briese,

owner of Rochester, Minn.-based Briese Computer Services,

adding that he's been exploring other options of late. "I've been

a pretty loyal 3Com and WatchGuard customer -- 3Com for

15 years and Watchguard for eight. When they were smaller,

Email this CRN article