Email this CRN article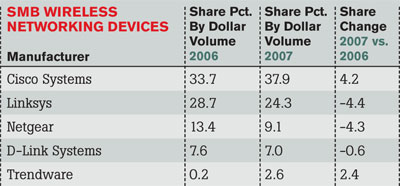 SMB WIRELESS NETWORKING
Where Cisco Systems dominates the enterprise wireless

market, the networking giant is double-trouble in SMB.

Cisco and the Cisco-owned Linksys Group last year were

tops in SMB wireless market share and, separately, the pair

also dominated. Despite this, other wireless networking vendors

maintained a strong share of the market, with Netgear,

D-Link Systems and Trendware in the mix.
While D-Link dropped a fraction of a percentage point, it

is confident in its channel sales and appeal to the SMB. "We're

positioned as an alternative to Cisco," said Keith Karlsen,

executive vice president."We know we can beat them at the

edge."
Brad Faizy, president of Tech On Web, Addison, Texas,

agreed. "A lot of times when we get requests for Cisco

routers and switches,we offer D-Link as an alternative," Faizy

said. "The price points D-Link offers are a no-brainer."
Linksys, for its part, said VARs like the breadth of its portfolio."

We offer a way to really tie together our products," said

Ivor Diedrichs, product manager for the Linksys Connected

Office Business Organization. "We've built out our portfolio

over the last two years focused on this specific space, the SMB."
[READ MORE]
Email this CRN article