Email this CRN article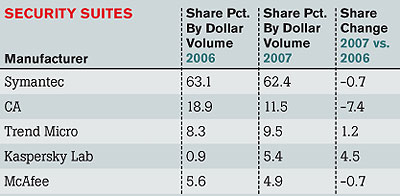 SECURITY SUITES
Symantec Corp. held fast to its position in security suite products, exceeding its nearest competitor, CA Inc., by more than 50 share percentage points. Despite its dominance, the company lost seven-tenths of a point in share from 2006 to 2007.
Executives attribute this to delayed releases when the company moved from antivirus solutions to its more comprehensive end-point protection product lines.
"People do have a tendency to wait when they hear something new is coming," said Julie Parrish, vice president of global channel sales for Symantec.
CA also experienced a market-share dip, as did McAfee.
"We've seen the opposite, that we've gained market share," said Dave Dickison, senior vice president of North American Channels for McAfee. "We find sales quite a bit ahead of the biggest competitor there," Dickison said.
Meanwhile, Kaspersky Lab executives say they have seen exponential growth recently due to the fact that they have relied on channel sales from the start. Partners also are bullish on Kaspersky's offerings.
"When we recommend Kaspersky, we put that on a customer's systems, and it immediately detects viruses or spyware that the previous product had missed," said Spencer Ferguson, president of Wasatch Software Inc. in Salt Lake City.
Meanwhile, Trend Micro said gains in the SMB market were due to increased adoption of its Worry Free line, and that enterprise share continues to grow. "Customers are looking to consolidate vendors and reduce complexity," said Nancy Reynolds, vice president of Channel and SMB Sales, North America for Trend Micro. [READ MORE]
Email this CRN article