Email this CRN article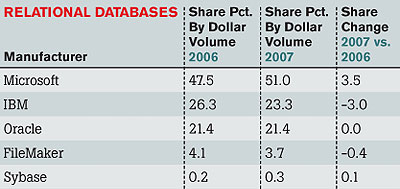 RELATIONAL DATABASES
You've got to give Microsoft credit. Most any other company

selling an aging version of a software product with a new

(and greatly hyped) release on the way would see sales drop

off. But last year SQL Server 2005 managed to pick up share.

How? Business intelligence is key, and VARs are tapping into

SQL Server's built-in reporting and analysis tools. "We've heard

from partners that they want to work with us around BI," said

Kim Saunders, senior director of marketing for SQL Server.
Data showing IBM's share declined comes as a surprise

to Bernie Spang, director of data servers. Spang said a "significant

volume" of IBM database software goes through distribution

and indirect channels and sales grew significantly in 2007.

The flat results for Oracle may be a bit disappointing

given the mid-2007 launch of itsVAD Remarketer program,

which seeks to increase sales of database products through distributors.
But VARs will buy more through it as they better

understand it, said Judson Althoff, vice president of Oracle's

Email this CRN article