Email this CRN article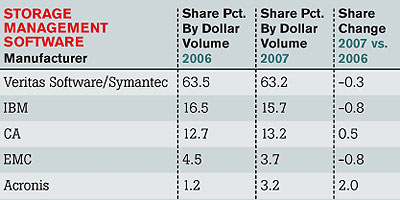 STORAGE MANAGEMENT SOFTWARE
As data volumes grow, so grows the demand for software needed

to manage the systems that store and back up all that data.

Symantec, remained far and away the leader in this category,

but that share represented a drop of 0.3 points from 2006.
Part of the reason may have been that Symantec just debuted

new versions of its flagship Backup Exec data protection and

Backup Exec System Recovery disaster-recovery software -- the

first major upgrades since late 2006. "A lot of customers don't

upgrade unless there's a compelling reason to do so," said Randy

Cochran, vice president of channel sales in the Americas.
Acronis Inc., meanwhile, picked up two share points.

"Acronis is a fast-growing segment of our business," said

Mike Piltoff, senior vice president of marketing at Champion

Solutions Group, a Boca Raton, Fla.-based solution provider.

Champion is a major implementer of VMware virtualization

software and Piltoff said Acronis' storage management tools

Email this CRN article