Email this CRN article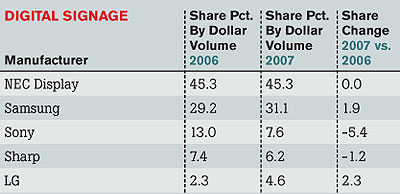 DIGITAL SIGNAGE
The digital signage market is a tough space -- literally. However,

advances in touch-screen technology and larger-than-life

screen sizes have kept the market moving up.
"It's attracting a lot more competition because a lot of the

companies in the desktop space want to move up that scale

because there's more opportunities and better margins with

digital signage," said Pierre Richer, president and COO of NEC

Display Solutions America.
From the Mayo Clinic to Madison Square Garden, digital displays

providing information, education and advertising (sometimes

all three) offer vendors like NEC, Samsung and LG opportunities

for growth. They, in turn, reach out to the channel.
"We've been doing national road shows on a regional basis,"

said Don Fasick, director of business development, digital signage,

at LG. "Last year we brought channel partners into

events so that people could have at their fingertips the ability

to get more detailed information of what's needed out there

Email this CRN article