Email this CRN article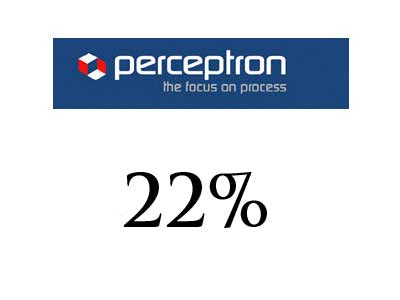 NAME: Perceptron
LOCATION: Plymouth, Mich.
2007 VARBUSINESS 500 RANK: 325
CEO: Harry Rittenour
TICKER: PRCP
STOCK PRICE JAN. 2, 2008: $10.5
STOCK PRICE MARCH 31, 2008: $12.78
PCT. CHANGE: 22%
SPECIALTY: Provides 3-D technology solutions
FINANCIALS: The company's sales increased in its most recent quarter by approximately $6.9 million, or 56 percent, compared to the same quarter one year ago. That increase was primarily due to higher sales in its technology products area, and driven primarily by the company's first commercial product. The Company expects to show quarter over quarter revenue growth throughout fiscal 2008 and continues to expect that sales and operating income will show growth for the full year of fiscal 2008 compared to fiscal 2007. Second quarter '08 net sales were up from the previous year, totaling $19.1 million, with operating income at $2.0 million. However, the company did incur a net loss of $188,000 or $0.02 per diluted share, reflecting a $2.6 million non-operating impairment charge related to an auction rate security investment the company holds that has become illiquid as a result of continued uncertainties in the credit markets.
Email this CRN article