Email this CRN article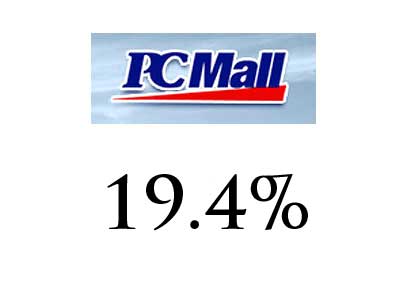 NAME: PC Mall
LOCATION: Torrance, Calif.
2007 VARBUSINESS 500 RANK: 57
CEO: Mark Palomba
TICKER: MALL
STOCK PRICE JAN. 2, 2008: $ 8.9
STOCK PRICE MARCH 31, 2008: $ 10.63
PCT. CHANGE: 19.4%
SPECIALTY: A value-added direct marketer of technology products, services, and solutions to businesses, government and educational institutions, and individual consumers.
FINANCIALS: PC Mall reported revenue of 1.2 billion for the year ended Dec. 31, 2007, an increase from the same period a year ago of 21 percent. Revenue for the fourth quarter also rose to $408 million to $288 million from the same period a year earlier. Gross profit for the quarter was a record $47.9 million, up 41 percent year-over-year. Although PC Mall earns just 1 percent profit margins on its sales, it makes up for that in volume.
Email this CRN article