Email this CRN article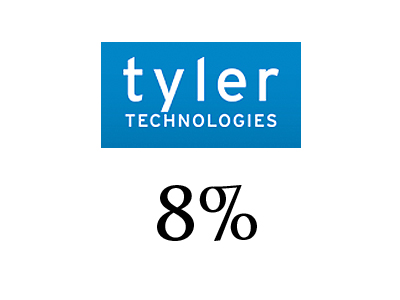 NAME: Tyler Technologies
LOCATION: Dallas, Texas
2007 VARBUSINESS 500 RANK: 159
CEO: John S. Marr Jr.
TICKER: OTEX
STOCK PRICE JAN. 2, 2008: $13.02
STOCK PRICE MARCH 31, 2008: $14.07
PCT. CHANGE: 8
SPECIALTY: Provides integrated information management solutions and services for local governments.
FINANCIALS: The company reported a 30 percent increase in its first-quarter earning, to $3.1 million, or 8 cents a share, compared with $2.4 million, or 6 cents per share, for the same period last year. Revenue was up 18 percent to $59.4 million. Projections for the year include revenue in the range of $259 million to $265 million; this was Tyler's 28th consecutive quarter of growth.
Email this CRN article