Email this CRN article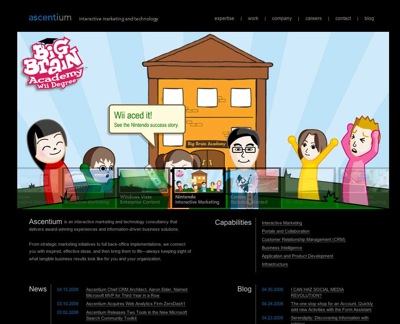 Solution providers walk a fine line with their Websites. The sites must be professional, functional, and appealing without appearing trivial or flashy. They need to demonstrate that the solution provider has the capability to transform complex requirements into efficient solutions.
But nobody said they can't look great. In fact, demonstrating a refined sense of design can help to brand a solution provider and generate new business opportunities.
In anticipation of this year's VARBusiness 500, we took a look at the current sites of all 500 of last year's companies (many of whom you'll see again this year). In this informal survey, we recognize twenty sites that go beyond dull presentations to deliver appealing experiences for their users. They're certainly not all flawless, but each is creative, dynamic and memorable.
Joe Caponi
---
ascentium
2007 VARBusiness 500 Rank: 441
Ascentium relies on a unique dynamic menu to showcase their customer's success stories, and engaging imagery (including the Wiis and the actor Christian Slater) inside the home page's main content block. Otherwise, their layout is simple and clean, with a reliance on white on black type, lower case for navigation and upper- and lower-case for headlines and other text.
Email this CRN article