Email this CRN article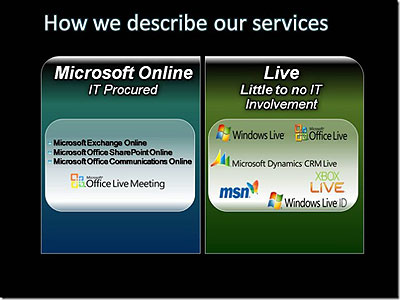 Microsoft's Online Services Will Erode Partner Business
Microsoft in March raised hackles in the channel by revealing plans to offer Web-hosted versions of Exchange and SharePoint Server to SMB customers, a segment that has traditionally been served by solution providers.
But Ron Herardian, president of Global System Services, a Mountain View, Calif.-based solution provider, says most of Microsoft's online services target small- and medium-sized enterprises and won't significantly impact most channel partners.
At the same time, there are many new opportunities for resellers and service providers to work with Microsoft, several solution providers told ChannelWeb. "This gives us a way to effectively compete with companies like Salesforce.com, and tackle a market we normally would just pass on," said Mitch Cannady, CEO of Spinnaker Solutions, an Irvine, Calif., solution provider.
Michael Nicholson, COO of POSitive Technology, a Rockville, Md.-based solution provider, says Microsoft has created a framework for allowing partners to build richer, 'last mile' solutions," said Nicholson. "Microsoft wants to do the heavy lifting around data centers and infrastructure, and they're allowing us to customize the solutions, which is a great situation," he said.
Email this CRN article