Email this CRN article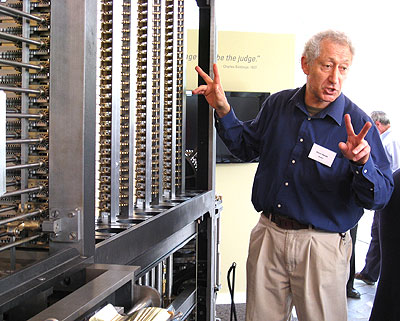 Doron Swade describes to Computer History Museum visitors the mechanical details and capabilities of Difference Engine No. 2. The engine weighs five metric tons and is 11 feet long by 7 feet tall, with a depth ranging from 18 inches to 4 feet. Its 8,000 individual parts make up the three main sections of the machine -- the control mechanism alongside the crank handle, the calculating section of eight vertical column assemblies, and the printing and stereotyping output apparatus.
The engine was commissioned by Nathan Myhrvold, CEO of Intellectual Ventures and former CTO of Microsoft. It will be the centerpiece of the Computer History Museum's Babbage Engine Exhibit for a year before being transferred to Myhrvold's private collection.
Email this CRN article