Email this CRN article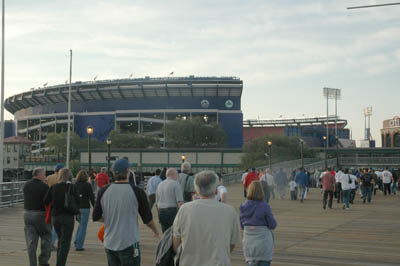 Shea Goodbye
Hello, my name is Shea Stadium. I'm 44 years old, and I'm feeling sort of blue these days. You see, the Mets were eliminated from postseason play on Sunday. Normally, this is about the time I start to prepare for a long winter's nap so I can be all ready for next season. But this time is different. You see, next spring I'm being replaced by a brand new ballpark and I'm going, well, I don't want to talk about that right now.
All season long fans from across the country have come to pay tribute to me. For some, it was their first visit here but I also have lots of friends who are here all the time. One of those longtime friends is a company named Future Tech Enterprise -- you may know them as a Holbrook, N.Y.-based solution provider.
On Sept. 24, they made their annual trip out to see the New York Mets, bringing with them lots of customers, employees and vendor friends. More than 220 in all. It was a great time and everybody really seemed like they had fun, even though the Mets lost another heartbreaker, 9-6, to the Chicago Cubs in extra innings. Still, I'm glad they came and I wanted to share some of their favorite memories.
Email this CRN article