Email this CRN article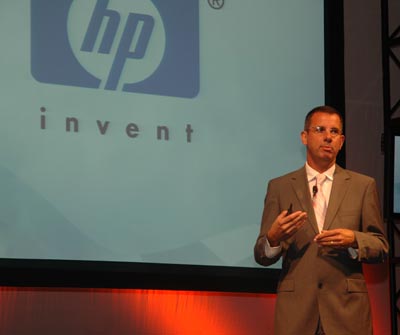 PartnerOne Update
Adrian Jones, vice president and general manager of Hewlett-Packard's Americas Solution Partners Organization, detailed the vendor's new PartnerOne channel program, which now includes Business Partner, Preferred and Elite levels.
The new Elite category "changes the game," Jones said. For example, it marks the first program in which HP will market directly to your end user customers, he said.
"We give you the branding perspective, the marketing support. We've been marketing to end users on behalf of partners in Europe with great success," he said. "We also want to make sure we give you right-up-front benefits and priority on leads."
Compensation is still a key to many solution providers and Elite partners stand to make greater margin, he said. "If you're a $5 million IPG printer partner today and you sell 10 percent more next year, you will make 20 percent more dollars than you did the year before. The more elite certifications you get, the more you grow with HP, the more money you make," Jones said.
Jones then took some audience questions, saying there are about 10 to 15 Elite certifications today. "PartnerOne is a bit of a journey for us. Over the next six to nine months, we will add and put different things in there. You will help us drive the right certifications, the right competency models for our partners."
Jones was also asked about HP's investment in inside sales resources within CDW. He answered that the vendor would consider joint plans with any size solution provider. "We want to grow in every segment. We have plans, some we have done with CDW, others with people in this room," Jones said."We will continue to do more across the SMB space, which we view as a $68 billion opportunity. There's no way one partner can do all that. But I won't give $1 if I don't know that that I can't get more net new business. Clearly, we're about taking share with partners, not dilution of share.
"We want more partners to come to us with plans. We have $5 million and $100 million partners come to us with plans," he said. "We've approved those plans. We look at every one very seriously. If there's an ROI to go after the SMB market, we gladly listen."
Email this CRN article