Email this CRN article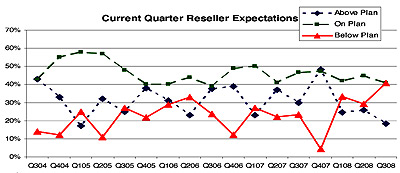 Some 56 enterprise resellers, nationally and internationally, with total annual revenue of $9.3 billion and average size of $211 million, were surveyed for a study by the rearch and investment company Robert W. Baird and Co. on their third quarter experiences and expectations.
Q3' 08 Weak
The findings showed 41 percent of respondents were below plan for the third quarter, 41 percent were on plan, and 18 percent of the Baird sample was above plan.
According to the report, "VAR feedback for the quarter is about as negative as we have seen in years with more resellers below plan than above plan for the quarter."
Email this CRN article