Email this CRN article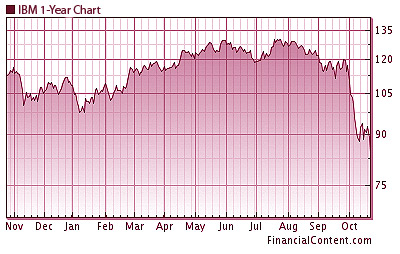 The economy is sputtering. The stock market is a roller coaster. And forecasts for IT spending growth in 2009 are lackluster (down to 2.3 percent from earlier projections of 5.8 percent, according to Gartner). Some vendors are saying "Slowdown? What slowdown?" But others are struggling -- either as a direct result of the sluggish economy or from on-going problems that put them in a precarious position to survive a serious downturn. Here's a look at nine companies who's fortunes seem to be going in opposite directions. We also take a look at their stock prices now and one year ago -- proving that stock values aren't always in sync with a company's real value.
Winner: IBM
IBM reported Oct. 16 that sales in its third quarter ended Sept. 30 grew a respectable 5 percent to $25.3 billion while earnings increased 20 percent to $2.8 billion. Big Blue's growth is being fueled by increased demand for its software (sales up 12 percent to $5.2 billion in the quarter) and services (up 8 percent to $14.8 billion). The downside? Sales from the company's Systems and Technology unit -- largely server and storage hardware -- dropped 10 percent in the quarter even after factoring in the 25 percent surge in sales of System z mainframe server products. At least IBM doesn't have to worry about the credit crunch: The company has $10 billion in cash in the bank.
Email this CRN article