Email this CRN article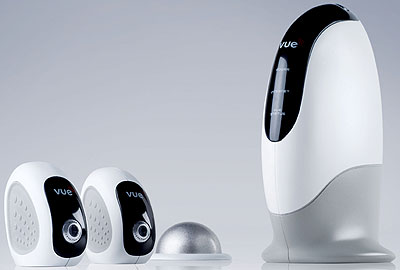 The Vue Personal Video System is a multicamera system that combines realtime remote video viewing and the Internet. What really makes it stand out, though, is its ease of setup. Consisting of a router-type gateway, the extremely small cameras attach to their mounts via a small, but powerful magnet. The mounts can be attached to surfaces with either double-sided tape or a small screw.
The miniature cameras stream realtime video directly to the Internet, viewable on all major browsers. An innovative ultra-low, power-patented technology called FrameMesh allows the cameras to operate for up to a year without changing the battery. After setting up an account, users can share the streams with family and friends and upload and share video -- or still images -- to popular social networking sites like YouTube and Flickr.
Up to 50 cameras can be associated to one gateway, and are easily added with the push of a button. In the future, repeaters will be available to extend the 300-foot range between the cameras and the gateway.
Email this CRN article