Email this CRN article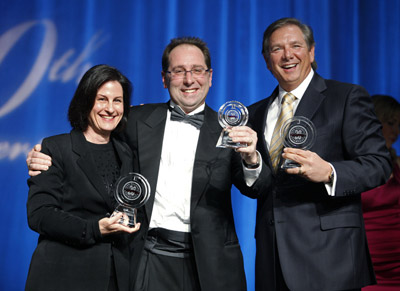 Networking giant Cisco cleaned house with a bevy of Channel Champs wins that included all three subcategories for Unified Communications/VoIP. Cisco also received the nod in the subcategory of Support Satisfaction as well as Overall Winner for Networking Hardware and landed top honors in the subcategory of Support Satisfaction for Network Security Appliances.
Everything Channel News Editor Steve Burke (center), handed out the Channel Champs awards to Edison Peres (r.), senior vice president of Cisco's worldwide partner organization, and Susan Don, director of security business development for worldwide channels (l.). Cisco was heralded as an industry bellwether whose success or failure could have ripple effects on global economic markets. The company was also lauded for providing the necessary and critical infrastructure demanded by much of IT today, beginning in networks and extending to voice and security.
Email this CRN article