Email this CRN article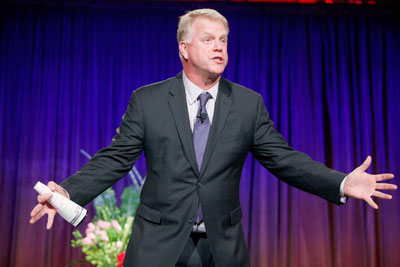 "Life has a way of throwing you things you can't prepare for," Esiason told the VAR500 attendees. The high -- and low -- point of Esiason's NFL career came in Super Bowl 23. A steep underdog to the San Francisco 49ers, Esiason's Bengals were nevertheless up by 3 points late in the fourth quarter. "Three minutes and thirty seconds away from winning the Super Bowl," Esiason described the situation, noting more than once, "We were ahead when I left the field!"
So Esiason found himself on the sidelines, practicing his "I'm going to Disney" line with the Disney video crew, in anticipation of victory. Meanwhile, he turned and noticed, "on the field, Joe Montana was completing passes..." leading to a 49ers touchdown, and the lead, with 35 seconds to go in the game.
With that, the Disney crew abandoned Boomer and dashed around the field to find Montana. "It was the ultimate indignity," Esiason acknowledged, (a last minute pass attempt from Esiason was broken up) and Esiason didn't go to Disney. "I went to Aruba, and it was awful."
Email this CRN article