Email this CRN article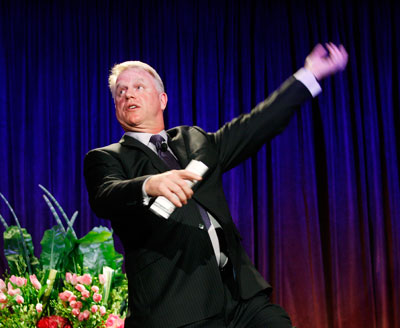 "I tell my son things aren't going to be easy," Esiason said, and found an example close to home with his own career post-MVP. Playing for the New York Jets, the Arizona Cardinals, and finally returning to the Cincinati Bengals, Esiason described the three teams as "The Bermuda Triangle of the NFL."
At the Jets, Esiason enjoyed two successful years, but then found himself at the start of the third year, playing for a coach, Rich Kotite, whose plan, as Esiason came to realize, was to "rebuild the team without Boomer."
The situation was grim. Even years later at the VAR 500 dinner, Esiason didn't avoid criticising his Jets teammates that year. They "had no idea what was going on," and he noted, "you're only as good as the stupidist guy on your team."
The Jets opened that season against the powerful Miami Dolphins, and Boomer found himself intercepted and slammed to the ground on the very first play. "That's what happens in the NFL..."
Email this CRN article