Email this CRN article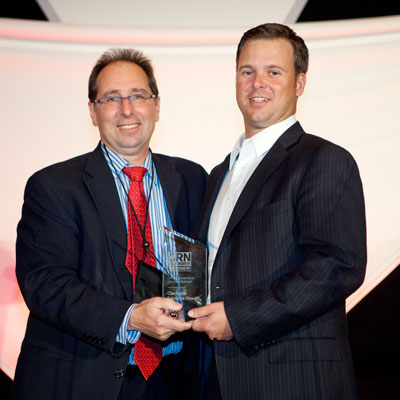 Fastest Growing Cloud Computing Specialist
Reston, Va.-based Clearpath Solutions Group, #8 on this year's Fast Growth 100 list, had two-year growth of 213 percent and was the fastest growing solution provider in cloud computing. President Gary Vaughn (left) accepted the award from Burke.
"Cloud computing is one of the fastest growing of our Fast Growth market segments," Burke said, making the award. "This company ranked number 8 on our list with a robust 213 percent growth rate. This company solves businesses' data management challenges, helping them store, protect and manage information all in the cloud.
"Its customers run the gamut from the Special Olympics, to the Nature Conservancy to Saint Agnes Hospital. Each guaranteed uptime and a predictable monthly bill," Burke said.
Email this CRN article