Email this CRN article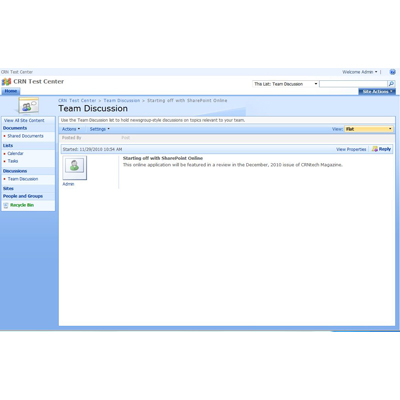 Cloud Application: Microsoft Online Services SharePoint
Microsoft makes no bones about the fact that configuration of SharePoint can be highly complex. But by now providing SharePoint as part of its Microsoft Online Services lineup, it has gone to great lengths to make it as turnkey an offering as possible.
While SharePoint 2010 should really be the province of midsize to large enterprises, Microsoft has done a stellar job of integrating elements of SharePoints functionality into its OfficeLive product. The interface, ability to share and collaborate on basic office documents, conduct instant messaging conversations and more do what SharePoint sets out to do: enable collaboration.
The hosted application, as part of Microsoft Online Services, can be integrated with online versions of Office Communications Server, Exchange and Live Meeting. Administrators have full user control via a robust management console. A half-hour after establishing an account (the trial version we used supported 20 licenses), its possible to have an enterprise sharing tasks, calendar information, files, instant messages and threaded conversations. Microsoft estimates the cost to an enterprise at $5.25 per user, per month for hosted SharePoint.

Email this CRN article