Email this CRN article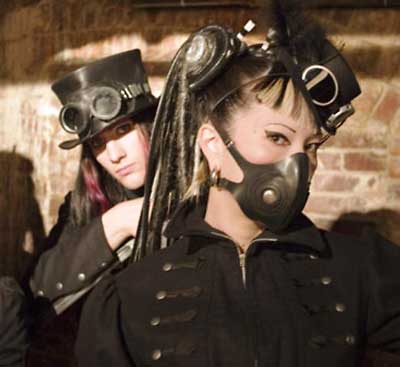 Steampunk "vampire hunters" Kory, left, and Mineke pose at 2007's Convergence 13 goth festival in Portland, Ore. While tech modders have been getting the bulk of the coverage in traditional media and from bloggers like Boing Boing's Cory Doctorow, observers like author G.D. Falksen think a real trend towards the mainstreaming of Neo-Victorian fashion is being overlooked amidst all the hubbub over cool gadgets.
"A major reason for the interest in Steampunk or Victorian fashion is that it looks good on anyone, male or female, regardless of build or body type," Falksen says. "The same can't be said about most 20th century fashions, which heavily favor tall and thin women and very muscular men."
Falksen's friend and fellow Steampunk enthusiast Evelyn Kriete is more blunt: "One of the reason girls are jumping on this trend is that if you put on a corset and bustle, you can be 10 lbs. overweight or thin as a rail and I guarantee you will look good in it."
Email this CRN article