Email this CRN article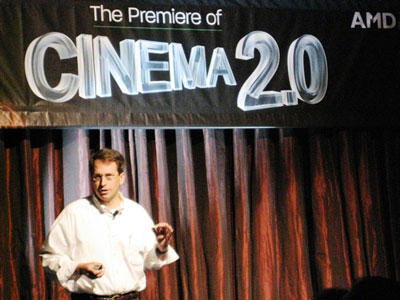 When Rick Bergman and Advanced Micro Devices introduced "Cinema 2.0" in San Francisco on June 16, skeptics may have wondered if moviemaking hadn't already leapt several versions past that rather unflattering designation. The advent of color, sound, video and computer-generated effects -- not to mention the original shift from hand-cranked Kinematoscopes and nickelodeons to modern projectors -- could all be said to be worthy of game-changing status.
But let's put aside the notion that we're probably already at Cinema 8.0 or higher and humor AMD's marketing team for a moment. The cinematic revolution proposed by Bergman, general manager of the chip maker's Graphics Product Group, involves nothing short of marrying the superior visual quality of filmed entertainment with the user participation of video gaming, all in real-time and powered by hardware and software being developed by AMD and its partners.
Email this CRN article