Email this CRN article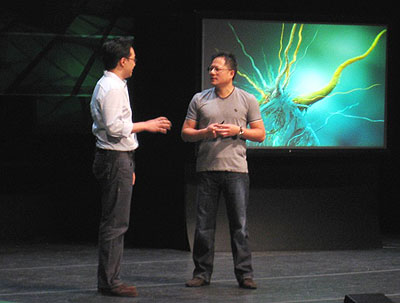 Nvidia CEO Jen-Hsun Huang discusses the Nurien Social Network with Taehoon Kim of South Korean company Nurien Software during Jen-Hsun's opening keynote Monday at the inaugural NVISION event in San Jose, Calif. Promising an event that would be more a celebration of visual computing than a marketing platform for Santa Clara, Calif.-based Nvidia's graphics processors, Jen-Hsun shared the keynote stage with several guests who demoed cutting edge visual computing applications.
The Nurien Social Network features dynamic computer-generated avatars that interact with each other in graphically rich settings. And it's free to join, according to Kim, whose company makes its money on "micro-transactions," small fees paid by Nurien Social Network members for upgrades to their avatars' appearance, abilities and home base.
Email this CRN article