Email this CRN article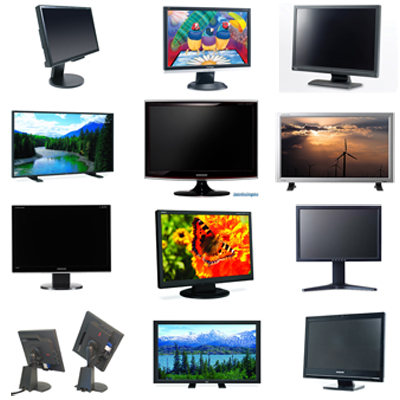 According to Everything Channel's 2009 State of the Market survey, peripherals on the whole are holding steady -- even with some technologies, such as monochrome printers, shown to be somewhat (and predictably) in decline.
Not surprisingly, displays were among the most resilient technologies, and 49 percent of solution providers surveyed for the State of the Market report indicated their focus on selling monitors and displays would stay about the same in the next 12 months. Thirty nine percent suggested their sales focus on monitors and displays would be increasing in 2009, while two percent indicated they expect decline and 10 percent indicated they do not currently sell displays or monitors.
The State of the Market findings fall in line with what the CRN Test Center has been seeing in display technologies for the past year. We asked Test Center reviewers to select the 12 displays that wowed them most over the preceding months -- those displays that if they could choose only a dozen for 2008, they'd be most likely to recommend.
Here's what they handed over, noting that the "sweet spot" for displays now ranges between 19 inches and 22 inches, but that much larger displays are more and more winning Test Center appreciation for their increasingly better performance.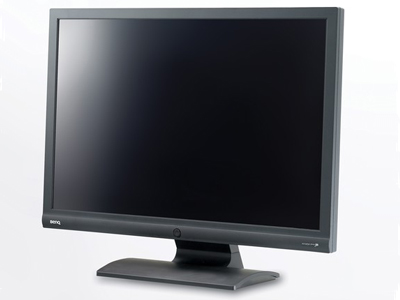 The BenQ G2200W has DVI and D-Sub 15 input connections, tilts from -5 to +20 degrees and has 160-degree viewing angles. Test Center calibration testing results were strong, with bright colors and hardly any glare. A key product from BenQ as the company tries to re-engage with the U.S. channel. 22 inches, native resolution of 1,680 x 1,050, 2,500:1 dynamic contrast ratio, 5-millisecond response time and 45 watts of power draw. Price: $299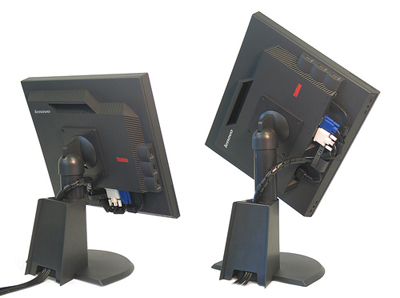 Lenovo, the Raleigh, N.C.-based company that bought the IBM PC Co. four years ago is also in the monitor business and brings a nice, quality lineup to bear. The ThinkVision L2440p needed no calibration out of the box, drew between 30 and 34 watts of power during testing and has 24 inches of clear, bright viewing real estate. 24 inches, 1,900 x 1,200 native resolution, Greenguard- and Epeat-certified with as many as four on-board USB ports, depending on the unit. Price: $499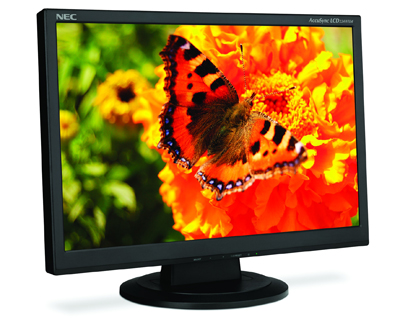 Passed our calibration testing, out of the box, with perfect numbers. Power draw of 45 watts is balanced well against its strong picture quality, and its surface temperature of 92 degrees was fine. Nice console management features too. 22 inches, native 1,680 x 1,050 resolution, 5-millisecond response time. Built-in speakers round out the feature set. Price: Less than $285 street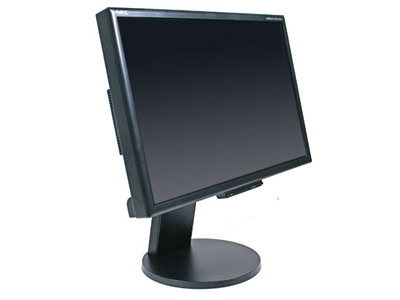 The coolest display we've reviewed, it registered only 80.3 degrees at its vent after an hour. It also needed only 42 watts for a workload of two word processors, a spreadsheet and a video. During 21 tests, only minor calibration was needed to the grayscale extreme and digital sharpness. 22 inches, 5-millisecond response time, five USB ports, D-808, DVI-D connections, audio input port and headphone jack. Price: $380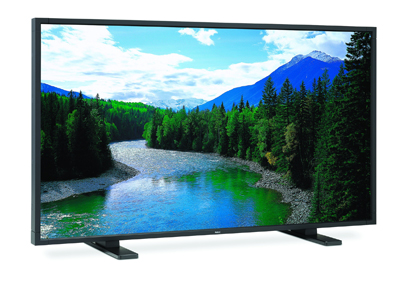 The NEC LCD5220, at 52 inches, is a large display that is manufactured with a rugged enclosure -- meaning it can be deployed in a variety of environments. With NEC's TileMatrix, it can be used as part of a large video wall or as a stand-alone, large-format LCD. 52 inches, high-def 1,080p resolution, DVI-D (HDCP), HDMI, 15-pin D-Sub, Analog BNC, composite (shared RCA, BNC), S-Video. Price: $5,499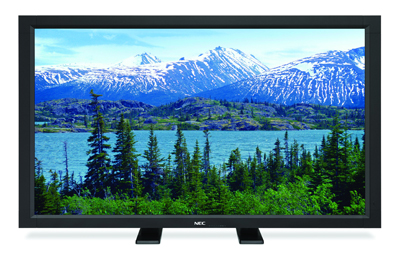 The NEC LCD6520 is 62 inches of display. Due to its cooling logistics, it can't be rotated; it's available in portrait or landscape. It provides strong performance in such things as Blu-ray playback. High-def 1,080p resolution, video inputs: DVI-D (HDCP), HDMI, 15-pin D-Sub, analog BNC, S-Video, component RCA. Price: $12,999, landscape; $14,499, portrait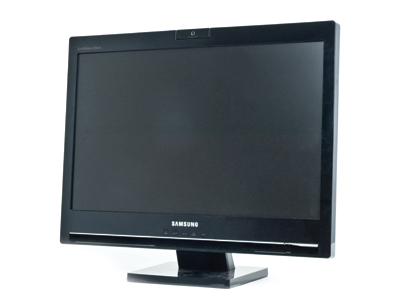 Nicely passed 16 out of 18 calibration tests, but offers a nice and efficient 38 watts of power draw. Temperatures when running reached 88 degrees; offers nice functions, including a built-in, 2.0-megapixel Web cam and it can swivel and tilt.
22 inches, 1,680 x 1,050 native resolution, 5-millisecond response time. Fit and finish includes a nice, glossy case. Price: Around $300 street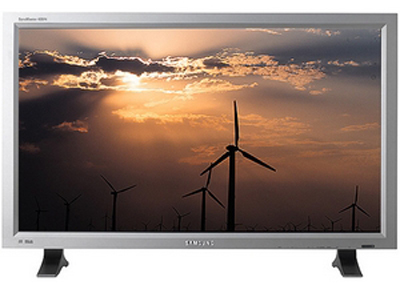 Offers 720p source resolution and includes range of video inputs -- AV, S-Video, component, HDMI. Has ports for DVI-HDCP, RGB input/output, component video inputs, RCA audio line-in, composite video/audio (RCA) input/output and S-Video input. 46 inches, native 1,366 x 768 resolution, 178-degree viewing angle with 90-degree rotation into vertical portrait mode. Price: $2,399 street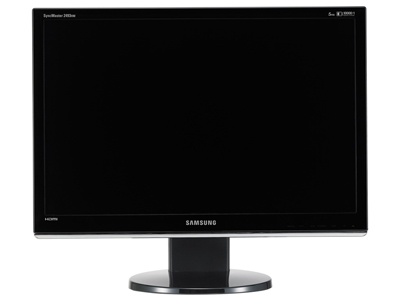 Built with audio in-out jacks, DVI, RGB and HDMI ports, heat sensor "touch" buttons, several inches of height adjust, 45 degrees of tilt capability and a full vertical rotation function. Almost no calibration was needed. $485 street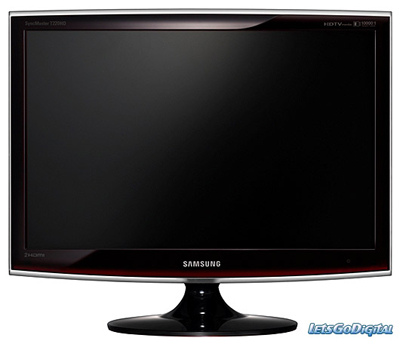 Designed with a deep burgundy casing, the SyncMaster T220 is stylish, but more important, it needed almost no calibration out of the box. Nice performance, but still only drew 40 watts of power during testing. 22 inches, 20,000:1 contrast ratio, 2-millisecond response time, 45-degree tilt, pivot from landscape to full-portrait view. Price: List-priced at $349; street can be $80 below that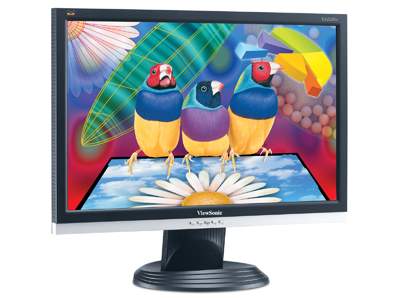 The ViewSonic VA2226W passed 16 of 18 of our calibration tests, drew 39 watts of power and ran at 93 degrees throughout much of the unit. The tilt-only monitor also sports a 170/160 (H/V)-degree viewing angle. 22 inches, 5-millisecond response time, 1,680 x 1,050 native resolution, sturdy fit and finish. Price: Less than $240 street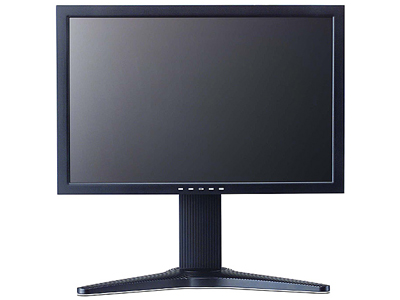 The ViewSonic VP2250WB, plugged in and running office applications and video, used only 39 watts during testing. It also was nice on thermals, warming up to about 90 degrees and needed almost no calibration out of the box. 22 inches, 3,000:1 dynamic contrast ratio, 2-millisecond response time, tilt and swivel capability to 120 degrees. Price: $350 street, give or take about $20.
Email this CRN article