Email this CRN article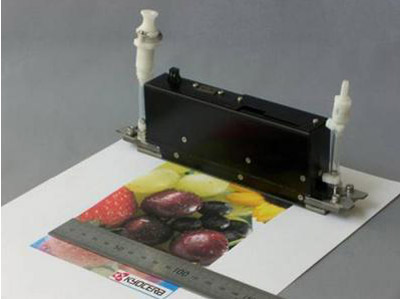 The much-ballyhooed Kyocera KJ4, the fastest printhead in the world according to Kyocera, made its debut Wednesday at the 2009 Japan Graphic Arts Show. While the company announced specs for the printhead in September, this is the first time the public had a chance to see the device, which sprays ink onto a sheet of paper, in action.
The newly developed printhead has super fast print speeds in any of three resolutions: 600 - 360 dpi (330 meters/minute at 40KHz), 600 - 600 dpi (200 m/min. at 40KHz) and 1,200 - 1,200 dpi (150 m/min. at 60KHz). Each nozzle in the new KJ4 Series printhead ejects ink at up to 60,000 dots per second (at 60KHz drive frequency). With 2,656 nozzles per head, the device can print approximately 150 million dots per second.
Kyocera first introduced the KJ4 series in 2008, and at the time it was the fastest printhead on the market, with 150 m/min. at 600 - 600 dpi resolution, using a drive frequency of 30KHz.
Email this CRN article